The Pastry Training program at Lenôtre School is designed for adults who wish to learn or tranisition into the field of pastry :
Hobbyists and enthusiasts looking to switch careers
Young professionals
Professionals who left the trade for a while
A UNique teaching approach
The objective
The goal is to quickly reach a high level of qualification in 7 months without going through a long initial training period. The école Lenôtre will provide you with the basic methods and essential techniques in pastry making needed to become a qualified professional (vocational diploma) in six months.
We are committed to teaching you the fundamental gestures and essential techniques that will make you a recognised professional. During your training, you will live the Lenôtre experience to familiarise yourself with all our processes and trade secrets. You will become an integral part of a demanding professional environment. All our training programs are entirely focused on practical hands-on experience and repetitive practice
Our strengths
21 weeks of intensive training
Maximum of 12 participants per course
100% success rate
4 to 9 weeks of internships at Lenôtre establishments
2 weeks of training with award-winning chefs
Rates & Registration Procedures
Prerequisites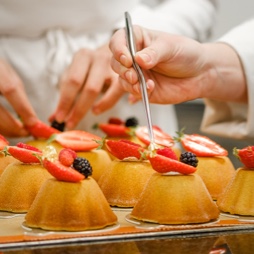 The prerequisites to be eligible for this training program are as follows :
To be aged 18 years or older
To have a minimum level in English or French (level B1)
Teaching
Recipe development and professional pastry-making :
Revisit existing recipes and come up with new ones, keeping a constant watch on fashionable pastry trends to come up with the most creative ones
Develop the list of recipes used, exploiting the range of savoury flavours to broaden the range and range of entremets
Create signature patisseries, highlighting your own individuality and personal culinary sensibility to present a recognisable offering that stands out from the competition
Develop recipes based on criteria of nutritional balance, taking into account the principles of dietetics and the impact of sweet foods on health (diabetes and obesity)
Develop hypoallergenic recipes with regard to major allergens (egg, milk, wheat, etc.) and substitute products in order to provide a specific offer to the public concerned by these issues.
Design pastry preparations that meet religious and ethical dietary requirements
Draw up sheets for each pastry production, including ingredients, recipes and baking times, to ensure that the pastry is made in accordance with the instructions and achieves the desired result
Preparing the pastry:
Prepare and organise the conditions for keeping the work area and equipment clean and operational in order to guarantee compliance with health and safety rules
Draw up the pastry production plan with the scheduling of tasks to ensure that production is completed within the given timeframe
Systematically check the quality, quantity and availability of ingredients to anticipate and manage unforeseen circumstances
Determine the rate at which you work according to the work to be carried out, in liaison with the brigade and the head pastry chef, in order to optimise production
Use appropriate techniques and tricks of the trade to make doughs, creams and biscuits
Make viennoiseries, pastries and breaded products using fermentation methods
Make confectionery and syrups (boulé, coulé, cassé, caramel, nougatine, etc.) using cooking temperatures and the physical and chemical properties of sugar
Make ice creams and sorbets, taking into account the balances to be respected in order to create successful frozen desserts
Personalise the recipes by using toppings and accompanying products (fresh, dried or poached fruit, chocolate, caramel, coulis, etc.) to multiply the flavours and enhance the result
Create "artistic" decorations for the dishes by applying piping, icing and glazing techniques to enhance their presentation
Arrange dishes on the plate and pastry pieces in the window, playing on colors, shapes, textures and volumes and using containers and accessories (socket pockets, cookie cutters, brushes, etc.) to highlight preparations
Prevent risk factors likely to alter the final result (environment, cooling and temperature recovery techniques, operation of cold and hot connections, delay) to ensure successful recipes
Develop recipes based on nutritional balance criteria based on the principles of dietetics and the health impact of sugary foods (diabetes and obesity)
Develop hypoallergenic recipes with regard to major allergens (egg, milk, wheat, etc.) and substitute products to address a specific offer to the public concerned by these issues
Management of the professional pastry chef's activity:
Implement the HACCP method and principles to prevent potential hazards related to the handling of foods used in pastry preparations
Ensure traceability and proper preservation of raw and processed materials using specific packaging, freezing and labelling processes for pastry products in order to comply with regulations
Systematically measure the level of food safety to ensure compliance with hygiene regulations
Manage, if necessary, a pastry brigade to organize a quality production
Streamline purchases and retention of products according to their degree of processing to optimize costs
Manage the stock of ingredients (order preparation, receipt and control of products) to ensure supply requirements taking into account storage capacities
Manage relationships with suppliers of baked ingredients to guarantee supply and take advantage of promotional offers
Calculate the costs of the various pastry productions in order to determine the selling prices and draw up estimates guaranteeing both an acceptable price and profitability
Design a pastry recipe book by highlighting the "star" products and taking into account visual communication rules to ensure their promotion
Manage its schedule and use the procedures and techniques for managing the activity in order to enable it to be monitored
Maintain and track regulatory administrative documents to be able to meet health control procedures
Opportunities
Opportunities and Career Prospects
Following our training, graduates can, depending on their level and career prospects, choose the following professions :
Pastry Chef
Pastry Sous Chef
Pastry Chef de Partie
Private Chef
Pastry Business Manager
Training Chef, Teaching Chef
Consultant, Food Critic, and Culinary Colomnist
Food and Beverage Manager
Entrepreneur
Pastry Creation
Production in Laboratory
Caterer
Pastry Baker
On the March 2022 session, the success rate of our students in the Becoming a Pastry Chef training program was 100%
Rates & Registration Procedures
Training Fee:
Fee for the full training program, including 21 weeks of training and 4 to 9 weeks of internship: €29,990 excluding tax (€35,988 including tax).
Due to the limited number of spots available in each session (maximum of 12), we recommend registering at least 3 months prior to the start date.
Module Rates¹:
Essential" Modules: €8,094 excluding tax (€9,712.80 including tax)
Unmissable" Modules: €9,443 excluding tax (€11,331.60 including tax)
Mastery" Modules: €12,453 excluding tax (€14,943.60 including tax)
Recognition of Prior Learning:
Possibility to access the training through Recognition of Prior Learning (RPL).
To access our RPL training, an RPL application must be completed to verify your experience in pastry.
RPL Training Fee: €4,300 excluding tax² (€5,160 including tax)
RPL "Essential" or "Unmissable" Module Fee: €1,500 excluding tax² (€1,800 including tax)
¹ In the event of unsuccessful exams, the student will be required to attend a makeup week (€500 excluding tax).
² Fee includes €200 administrative fees.

Duration per level:
Essential: 240 hours of training, including 40 hours of evaluation
Unmissable: 280 hours of training, including 40 hours of evaluation
Mastery: 320 hours of training, including 40 hours of evaluation + 4 weeks of mandatory internship
Duration of the Training:
Total duration of the training: 920 hours
Duration per level:
Essential: 240 hours of training, including 40 hours of evaluation
Unmissable: 280 hours of training, including 40 hours of evaluation
Mastery: 320 hours of training, including 40 hours of evaluation + 4 weeks of mandatory internshipEssentiel : 240 heures de formation dont 40 heures d'évaluation

Eligibility:
After an initial training course
Under an apprenticeship contract
After a course of continuous training
Under a professionalization contract
In free application
By e-bike
Upcoming Start Dates :
Financing
Through your Personal Training Account (CPF)
Through the Skills Development Plan
The Skills Development Plan includes all training actions implemented by the employer for their employees.
Please inquire with your Human Resources department for more information.
Through Individual Training Assistance (AIF)
Regional Council Grants – AIRE Transition Pro
AIRE Individual Regional Aid for Employment | Île-de-France Region (iledefrance.fr)
The AIRE grant is available to job seekers in Île-de-France, registered with Pôle emploi, holding a valid attestation issued by Pôle emploi dating less than 3 months before the start of the training.
Please specify your request so that we can assist you in the procedures on the regional platform mesdemarches.iledefrance.fr.
Practical Information
Typical Class Schedule:
Monday: 8:00 AM to 5:30 PM
Tuesday: 8:00 AM to 5:30 PM
Wednesday: 8:00 AM to 5:30 PM
Thursday: 8:00 AM to 5:30 PM
Friday: 8:00 AM to 3:00 PM
A welcome coffee is offered 30 minutes before the start of the class each day. Lunch is scheduled from 12:00 PM to 12:45 PM. The welcome coffee and lunch are provided on training days.
The above schedule may vary depending on the course theme and the calendar year.
It is recommended to consult the timetable provided at the beginning of the training.
Accessibility for People with Disabilities:
The training programs and internships offered by Lenôtre School are accessible to individuals with disabilities or health issues. We encourage you to mention it during your registration request. You will be contacted by the disability coordinator to discuss any necessary accommodations to ensure your stay with us goes smoothly. Upon your arrival, you will receive personalized support to facilitate your integration.
Our disability coordinator: Guillaume Galy – +33 1 86 93 04 00
Accommodation :
Lenôtre School can provide you with a list of useful addresses to find a rented room, studio, or apartment.
a journey that adapts to your needs
A 3-Act Pastry Training
A flexible program that allows you to complete 7 consecutive months (920 hours) of training or take it in segmented modules (see below).
Each module will include a week of revision and examinations (MCQ, continuous assessment, and practical exam).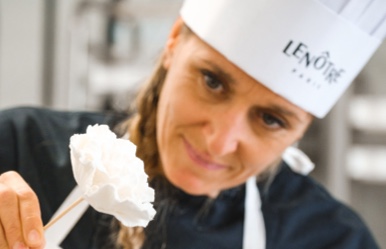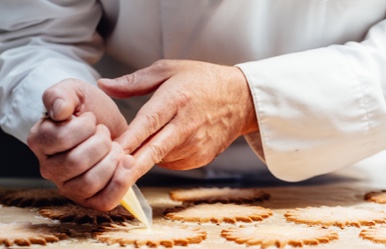 "L'Essential"
Work on basic recipes and techniques in pastry making
6 weeks
---
"L'incontournable"
Work on recipes and elaborated pastry techniques
7 weeks
---
"La Maîtrise"
Design an assortment of high-end, sophisticated modern pastries
8 weeks
+
Practical Internship
4 to 9 weeks of on-the-job training to gain exposure to the professional world and apply acquired skills.
OUR RECOGNITIONS :
PROMOTION 2024
Registrations for the February 2024 intake are now open
A COOKING SCHOOL NEAR PARIS
Accessible, modern, and welcoming premises
Since April 5, 2021, Lenôtre School is located in brand-new premises in Rungis (94), near Paris, just a stone's throw away from one of the largest gourmet supplier markets. The school provides a pleasant living environment, easily accessible through various transportation options, and equipped with state-of-the-art equipment for optimal quality education.