The training courses in Cooking at the école Lenôtre are designed for adults looking to train or to switch careers :
Hobbyists and enthusiasts looking to switch careers
Young professionals
Professionals who left the trade for a while
A UNIQUE PEDAGOGY
The objective
The goal is to quickly reach a high level of qualification in 7 months without going through a long initial training period. The école Lenôtre will provide you with the basic methods and essential techniques in cooking needed to become a qualified professional (vocational diploma) in six months.
We are committed to passing on the fundamental techniques and essential skills that will make you a recognized professional. During your training, you will experience the rhythm of Lenôtre and become familiar with all our processes and production secrets. You will be an integral part of a demanding professional environment. All our training programs are designed entirely around practice and repetition of techniques.
Our strengths
21 weeks of intensive training
Maximum of 12 participants per course
100% success rate
From four to nine weeks internship in a Lenôtre establishment
Two weeks of training with awarded chefs
Rates & Registration Procedures
Prerequisites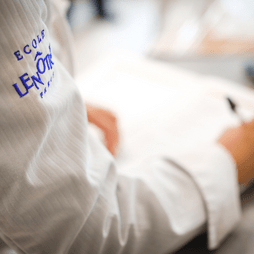 The prerequisites to be eligible for this training program are as follows :
To be aged 18 years or older
To have a minimum level in English or French (level B1)
To be able to read and write
To have basic knowledge of basic reasoning
(calculations and logic)
Teaching
Preparation of culinary production:
Develop recipes based on nutritional balance criteria considering the fundamental principles of dietetics and the impact of cooking on health.
Create specific recipes (allergies, intolerances, diabetes, etc.) to meet health constraints or religious requirements.
Stay updated on culinary trends and world cuisines to enhance creativity by interpreting existing recipes and imagining new ones.
Assemble components of a menu or a menu card (appetizers, main courses, desserts) to offer coherent and varied culinary options that cater to a wide range of consumers.
Design unique dishes to showcase artistic signature and highlight culinary sensitivity.
Create an attractive menu or menu card based on presentation rules to make it understandable to customers.
Write technical sheets for each recipe, including ingredients, quantities, steps, techniques, and costs, to capitalize on knowledge and organize implementation.
Preparation of culinary production:
Maintain clean and operational work areas and equipment to ensure compliance with hygiene and safety regulations.
Determine the ideal production location and associated requirements based on the operation rules of hot and cold connections.
Estimate the needs (products, resources, equipment) required for a culinary project to organize orders in line with economic constraints (meal prices, etc.).
Develop and implement a production plan to ensure the proper scheduling of tasks for each participant.
Systematically verify the quality, quantity, and availability of ingredients to anticipate and manage contingencies.
Determine the work pace based on the required services in coordination with the brigade and the head chef to optimize production.
Prepare raw materials using cutting, peeling, lifting, larding, trussing, and carving techniques before transformation and cooking.
Determine the most relevant types and methods of cooking (temperature conditions and durations, equipment, context) to execute planned recipes.
Apply appropriate techniques and skills to create classic sauces, stocks, dishes, and desserts.
Prepare vegetable accompaniments and garnishes to complement the main dishes.
Create combinations of spices, herbs, and condiments to enhance aromas and flavors by leveraging contrasts between ingredients.
Plate dishes by playing with colors, shapes, volumes, and using appropriate containers and accessories (piping bags, molds, brushes, etc.) to showcase preparations.
Administrative management and monitoring of a professional chef's activity:
Implement HACCP method and principles to prevent potential hazards related to food handling.
Ensure traceability and proper storage of products based on packaging, freezing, and labeling processes to comply with regulations.
Regularly assess personal food safety level to comply with hygiene regulations.
Optimize the purchase and storage of processed and unprocessed products to minimize costs.
Manage ingredient inventory (order preparation, product reception and inspection) to ensure supply needs considering storage capacity.
Maintain relationships with product suppliers to ensure a reliable supply and benefit from promotional offers.
Calculate costs for different culinary productions to determine selling prices.
Manage schedule and use activity management procedures and techniques for effective monitoring.
Maintain and track regulatory administrative documents to comply with sanitary control procedures.
Opportunities
Débouchés et Perspectives de carrières
Career Opportunities:
Career Prospects and Opportunities
After completing our training programs, graduates can, based on their level and career prospects, pursue the following professions:
Head Chef
Training Chef, Teaching Chef
Private Chef
Sous Chef
Line Cook
Entrepreneur
Restaurant Business Manager
Consultant
Culinary Critic and Columnist
Food and Beverage Manager
Production in a Laboratory
Event Caterer
In the September 2022 session, the success rate of our students in the "Becoming a Cook" training program was 100%.
Are you interested in opening your own restaurant?
The Lenôtre Culinary Arts School offers you the opportunity to complement your learning by taking two mandatory courses for opening your restaurant, in addition to the "Becoming a Cook" training program: the HACCP training, to learn the proper hygiene practices adapted to your future activity, and the Operating License training.
Price of the Becoming a Chef training program + HACCP training + Operating License training: 30,800 EUR excluding taxes (36,960 EUR including taxes).
Rates & Registration Procedures
Training Fee
Fee for the 3 modules, totaling 21 weeks of training and 4 weeks of internship: €30,990 excluding taxes (€37,188 including taxes)
Due to the limited number of spots in each session (maximum of 12), we recommend registering at least 3 months prior to the start date.
Module Rates¹:
"Essential" Module: €8,381 excluding taxes (€10,057.20 including taxes)
"Unmissable" Module: €9,778 excluding taxes (€11,733.60 including taxes)
"Mastery" Module: €12,831 excluding taxes (€15,397.20 including taxes)
Fee for the "Becoming a Cook" Training Program + HACCP + Operating License (for candidates wishing to open their own restaurant): €31,840 excluding taxes (€38,208 including taxes)
Recognition of Prior Learning (RPL)
Possibility to access the training through Recognition of Prior Learning (RPL)
To access our RPL training, an RPL application must be completed to demonstrate your experience in cooking.
RPL Training Fee: €4,450 excluding taxes² (€5,340 including taxes)
"Essential" or "Unmissable" Certificate RPL Fee: €1,550 excluding taxes² (€1,860 including taxes)
¹ In case of failure in the exams, the student will need to attend a makeup week (€500 to €600 excluding taxes)
² Fee includes €200 administrative fees.
Duration of the Training
Total duration of the training: 920 hours
Duration of the training per level:
Essential: 240 hours of training, including 40 hours of evaluation
Unmissable: 280 hours of training, including 40 hours of evaluation
Mastery: 320 hours of training, including 40 hours of evaluation + 4 weeks of mandatory internship
Eligibility
After an initial training course
Under an apprenticeship contract
After a course of continuous training
Under a professionalization contract
In free application
By e-bike
Upcoming Start Dates:
Financing
Through your Personal Training Account
Through the Skills Development Plan
The skills development plan lists all the training actions implemented by the employer for their employees.
Feel free to inquire with your human resources department.
Through the Individual Training Assistance (AIF)
https://www.pole-emploi.fr/candidat/en-formation/mes-aides-financieres/laide-individuelle-a-la-formatio.html
The AIF is a financing assistance for your training and is available to job seekers registered with Pôle emploi (French public employment service), as well as individuals in the professional reclassification contract (CRP), professional transition contract (CTP), or professional security contract (CSP) programs.
Please consult your Pôle emploi advisor. They will evaluate the request in line with your employment reintegration project.
Regional Council aids – AIRE transition pro
Regional Individual Aid towards Employment AIRE | Île-de-France Region (iledefrance.fr)
The AIRE aid is available to job seekers residing in the Île-de-France region, registered with Pôle emploi, and holding a valid attestation issued by Pôle emploi dating less than 3 months before the start of the training.
Please specify your request so that we can assist you in the application process on the regional platform mesdemarches.iledefrance.fr.
Practical Information
Usual Course Schedule
Monday from 8:00 am to 5:30 pm
Tuesday from 8:00 am to 5:30 pm
Wednesday from 8:00 am to 5:30 pm
Thursday from 8:00 am to 5:30 pm
Friday from 8:00 am to 3:00 pm
Every day, a welcome coffee is offered 30 minutes before the start of the course. Lunch is scheduled from 12:00 pm to 12:45 pm. Welcome coffee and lunch are provided on training days.
The above schedule may vary depending on the course theme and the calendar year.
It is recommended to check the schedule provided at the beginning of the training.
Accessibility for Disabilities

The training programs and courses offered by Lenôtre School are accessible to people with disabilities or health issues. We encourage you to mention it during your registration request. You will be contacted by the disability coordinator to discuss any necessary accommodations to ensure your stay with us goes smoothly. Upon your arrival, you will receive personalized support to facilitate your integration.
Our disability coordinator: Guillaume Galy – +33 1 86 93 04 00
Accommodation
Lenôtre School can provide you with a list of useful contacts to find a rented room, studio, or apartment
A FLEXIBLE JOURNEY THAT ADAPTS TO YOUR NEEDS

A three-part training course

A flexible offering that allows you to follow 7 consecutive months (920 hours) of training or segmented by module (see below).
Each module includes a week of revision and examination (MCQ, continuous assessment, and practical exam).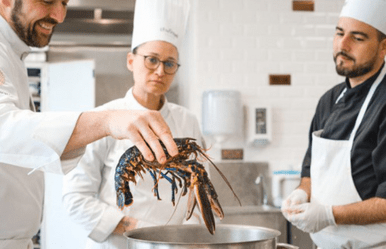 "L'Essentiel"
Make the basic cooking recipes 6 weeks.
---
"L'incontournable"
Make the classics of Culinary Arts 7 weeks.
---
"La Maîtrise"
Make an assortment of high quality and trend dishes – 8 weeks
+
The Work placement
4 to 9 weeks work placement to discover the professional universe and apply practical skills acquired during the training
Dreaming of opening your own restaurant?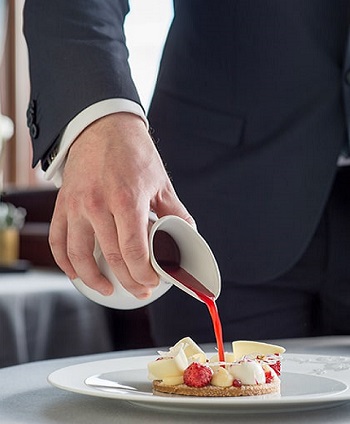 A comprehensive journey!
Lenôtre School offers two mandatory courses in addition to the Becoming a Chef program for opening your restaurant: the HACCP training to learn hygiene best practices adapted to your future activities and the Exploitation Permit training.
OUR RECOGNITIONS :
PROMOTION 2024
Registrations for the February 2024 intake are now open
A COOKING SCHOOL NEAR PARIS
Accessible, modern, and welcoming premises
Since April 5, 2021, Lenôtre School is located in brand-new premises in Rungis (94), near Paris, just a stone's throw away from one of the largest gourmet supplier markets. The school provides a pleasant living environment, easily accessible through various transportation options, and equipped with state-of-the-art equipment for optimal quality education.