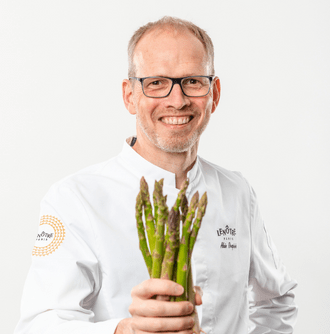 INTERVIEW
1. Hello, could you introduce yourself briefly?
My name is Alain Despinois, and I am passionate about culinary arts, which were passed down to me by my grandparents during my childhood. I have a CAP in cuisine and a BTS in restaurant management. I started my career at Accor before joining Maison Lenôtre in 2003. At Lenôtre, I have held various positions including Chef des Cuisines at Pavillon Elysées Lenôtre, International Consultant Trainer, Chef of the Savory Creation division, and currently, I am the Head Trainer at the new Lenôtre School based in Rungis.
2. When and how did you have this spark or initial passion for cooking?
When I was young, I already enjoyed preparing dishes for my family.
3. Why did you have the desire to teach?
I wanted to pass on my knowledge and skills to the younger generations to ensure the perpetuation of French cuisine.
4. Why the Maison and Lenôtre School?
Maison Lenôtre embodies all the values of French culinary art.
5. What is your favorite dessert and why?
Lemon meringue pie, with its combination of sweetness and acidity on a crispy crust.
6. Your signature dish?
Stuffed pig's feet with foie gras!
The pig's feet are completely deboned and laid flat. A fine stuffing mixed with pieces of foie gras is spread on top. Then, the mixture is rolled into sausages. Thick slices are cut, breaded, and pan-fried.
7. The recipe you know by heart?
The trilogy of hare in three cooking methods! (MOF 2018)
8. What advice would you give to an apprentice or someone considering a career change in the culinary field?
Above all, be passionate!
9. The detail you never compromise on in the kitchen?
Respecting the ingredients and minimizing waste… Nothing should be thrown away!