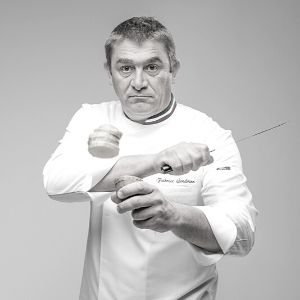 INTERVIEW
1. Hello, could you please introduce yourself in a few words?
Hello, I am Fabrice Gendrier. I have a BEP CAP from the Hotel School in Blois. I moved to Paris in 1986. From 1989 to 1995, I held various positions in 4-star hotels and restaurants. Then I worked around Toulouse and in the South-West region. I returned to Paris and discovered the profession of catering. Chef Guy Krenzer then recruited me. I have been working for Maison Lenôtre since 2006.
2. When and how did you have that moment or initial passion for cooking?
Like many chefs, it was my family environment, especially my grandmother, and chance encounters that led me to embrace this vocation.
3. Why this desire to teach?
It's important to pass on knowledge.
4. Why Maison Lenôtre?
It is a great house with exceptional know-how.
5. What is your guilty pleasure and why?
I love hachis parmentier accompanied by a salad. As for desserts, I have no preference as I have a sweet tooth.
6. Your signature in charcuterie?
The asparagus from Sologne!
7. The recipe you know by heart?
My grandmother Paulette's oven-baked caramel floating island (île flottante au caramel).
8. What advice would you give to an apprentice or someone looking to make a career change in charcuterie?
Live the passion! Go all the way and give it 100%.
9. What detail do you never compromise on in the kitchen?
Rigor, organization, and cleanliness are the key elements in the kitchen.