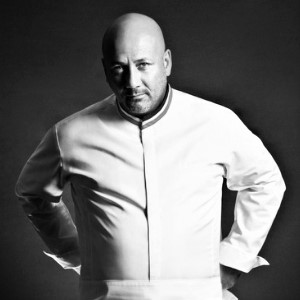 INTERVIEW
1. Who is Fréderic Anton ?
As a child, Frédéric Anton dreamed of becoming a cabinetmaker. However, he chose the culinary path and began his career in 1983 under Gérard Veissière. He worked alongside renowned chefs such as Robert Bardot and Gérard Boyer before becoming the head chef for Joël Robuchon until 1996.
In 1997, Le Pré Catelan offered him the opportunity to take over the reins of their gastronomic restaurant. He put his heart and passion into it, and in 1999, he earned a second Michelin star. But that was just a stepping stone. In 2000, he won the title of Best Craftsman of France and solidified his status as a leading French chef.
In 2007, Frédéric Anton achieved his third Michelin star. This highly talented chef excels at creating the most subtle sensations. His ability to capture aromas and elevate flavors pleases the palate, and his guests are transported by the generosity of his cuisine from the very first bite.