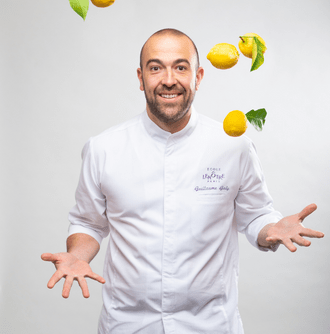 INTERVIEW
1. Hello, could you introduce yourself briefly?
Hello, I am Guillaume Galy. After ten years of work in the creative team of Maison Lenôtre, I spent two years in a Michelin-starred restaurant in New York and then another two years in an international school in Switzerland. I am currently a Chef Consultant for Lenôtre School.
2. When and how did you have this spark or initial passion for baking?
I knew I loved cooking from a young age, around nine years old. Thanks to my mother and her cuisine focused on Norman terroir, as well as my grandmother sharing her Mediterranean cuisine with the whole family, I developed a taste for family gatherings that I eagerly awaited.
3. Why did you have the desire to teach?
Cooking, for me, is a mode of communication and sharing. It is important for me to transmit this way of life to as many people as possible, especially those who are passionate about it. The techniques and foundations of French cuisine are very important to me.
4. Why Maison Lenôtre?
Maison Lenôtre, as a member of the Comité Colbert, is a key player in craftsmanship with traditional French techniques. Gaston Lenôtre represents a precursor to the spirit of transmission. This mindset still animates and continues within the school today.
5. What is your favorite dessert?
My favorite cake is the "Succès" from Maison Lenôtre. It is a recipe that is over fifty years old, and its balance is always surprising and effective with its creaminess, praline filling, and the crunch of its hazelnut meringue.
6. Your signature in pastry?
I would say it's a play on textures, particularly the crunchiness of fleur de sel (sea salt).
7. The recipe you know by heart?
The recipe for crème caramel: a classic French dish that is so delicious!
8. What advice would you give to an apprentice or someone considering a career change in pastry?
Cuisine demands precision. Doing something well once is easy, but doing it every day requires precision, as Gaston Lenôtre would say, especially for our customers.
9. The detail you never compromise on in the kitchen?
The exchange, sharing, as well as the finesse of execution, because visual presentation matters a lot these days to stand out and capture attention in both cooking and pastry.