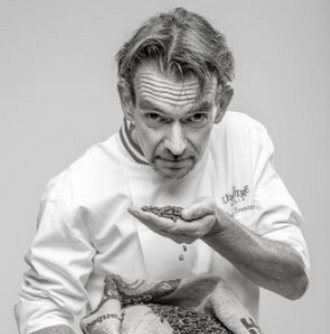 INTERVIEW
1. Hello, could you please introduce yourself in a few words?
Hello, I'm Guy Krenzer, the Director of Creation and Executive Chef at Maison Lenôtre.
To summarize the important milestones of my career, I joined the Compagnons du Devoir et du Tour de France. I am a double recipient of the title of Best Craftsman of France, and being curious, I also have a professional diploma as a barista and coffee roaster, as I became passionate about coffee.
2. When and how did you have that moment or initial passion for cooking and pastry?
I would say it goes back to my childhood, with my mother and a mirabelle plum tart. A memory from coming home from school!
3. Why this desire to teach?
It's primarily a calling, to have one's passion as a profession. And that is something that needs to be shared!
4. Why the Lenôtre School?
For its heritage and expertise that Gaston Lenôtre left to the Maison and the Lenôtre School. We have a duty to pass on excellence; all of that must not be lost.
5. What is your favorite dessert and why?
My favorite dessert? The Feuille d'Automne (Autumn Leaf): it's a condensed combination of techniques, textures, and flavors… It's simply sublime to taste, a true gourmet pleasure!
6. Your signature in cooking/pastry (ingredient, detail…)?
Everything is in my book "Les Soixante de la Maison Lenôtre": beauty, but above all, deliciousness.
7. The recipe you know by heart / with your eyes closed?
A trompe-l'oeil tiramisu with Chitultirol El Coban coffee.
8. What advice would you give to an apprentice or someone looking to make a career change in cooking/pastry?
"Culture" is something that can be learned. You need to listen, show respect, and remain humble. There's always an opportunity to learn.
9. What is the detail you never compromise on in the kitchen?
The ingredients and the joy of sharing.